Do You Need a Baja Shelf?
No, a Baja Shelf is not some exotic vacation location or a serving tray for Taco Tuesday.
You may have heard the Baja Shelf called by other names: tanning ledge, lounge ledge, sun ledge, sun shelf. It basically refers to an extended ledge that creates a shallow area within your pool. It's much bigger than your typical ledge that only extends a few inches from the wall.
What's cool about that, do you ask?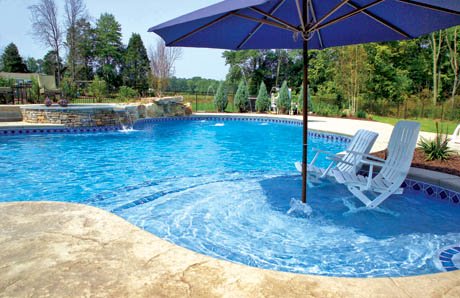 Well, have you ever wanted to enjoy the pool without having to actually get in it? Maybe you just want to sit in a chair and relax, but it's too hot for that. Or maybe you don't want to get completely wet, but the water is calling you! Well, the Baja Shelf creates a perfect ledge to set a couple of lounge chairs in the water. Sit back, relax, enjoy a beverage, while letting the cooler water lap at your toes.
Or perhaps you have a pampered pooch who likes to enjoy the pool (yes, some people do allow this!), but it's difficult for them to get into and out of the water. The Baja shelf provides the perfect spot for Fido to scramble in and out, or simply play in the shallow water.
The Baja Shelf is also a great accommodation for the elderly, people with disabilities, or for children. Little kids can play on the shelf (under strict supervision!) without the need for a separate kiddie pool, or it provides an easier way for people with limited upper body strength to enjoy the water.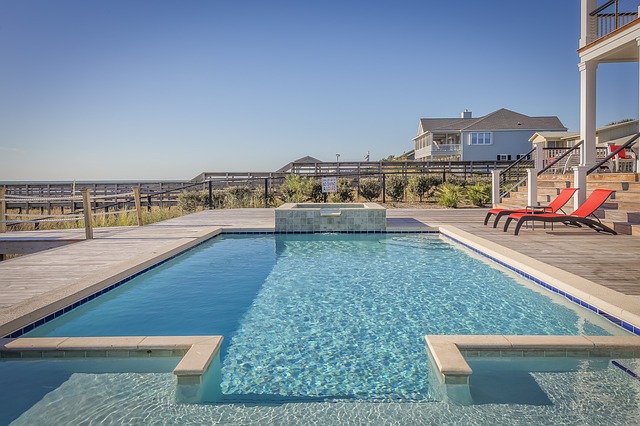 The Baja Shelf has been rising in popularity for the last couple of decades. If you are thinking about putting in a pool, or if you are planning a major remodel of your existing pool, it may be a perfect opportunity to enhance the usability of your backyard water paradise.
We can provide referrals to highly-rated pool installers if you are thinking about adding or updating your pool. Whether you are buying or selling in Fountain Hills, Susan Pellegrini and Karen DeGeorge are ready to put their care and expertise to work for you. Buying or selling, our first-class service comes with a wealth of experience and eye for detail, ready to focus on you. Visit our website to learn more and contact us or give us a call at (480)- 315-1575, we're here for you.
Image 1: Photo by Blue Haven Pools & Spas
TAGS: Pellegrini & DeGeorge Partners, Russ Lyon, Sotheby's International Real Estate, Fountain Hills Homes, Pool Design, Backyard Pools, Baja Shelf, Tanning Ledge, Lounge Ledge, Sun Ledge, Sun Shelf