Desert Inspiration for Your Fountain Hills Garden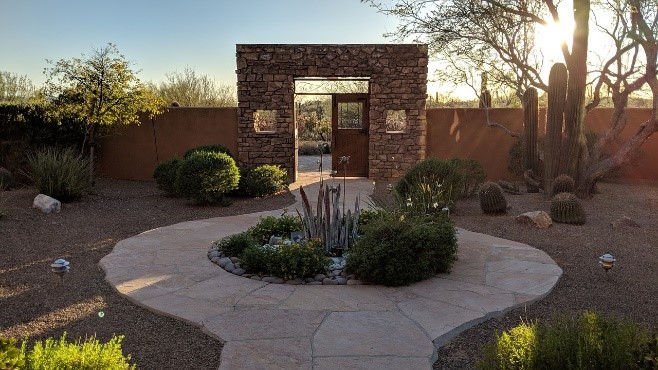 If your Fountain Hills garden could use some freshening up, find inspiration right within our desert landscapes. This is just what landscape designers do, when planning luxury yards and gardens in our region, and where you can find inspiration of your own as well.
A courtyard is an excellent way to establish privacy, add an architectural element to your landscaping and filter in light and shadow. Within a courtyard garden you can create an oasis getaway, the perfect place to including a water feature, be it a swimming pool, fountain or waterfall, or a combination of all three.
Add in different lighting effects with the material you choose for walling off your courtyard. Framing a wall and lining it with a translucent material like polycarbonate film will soften natural light coming in.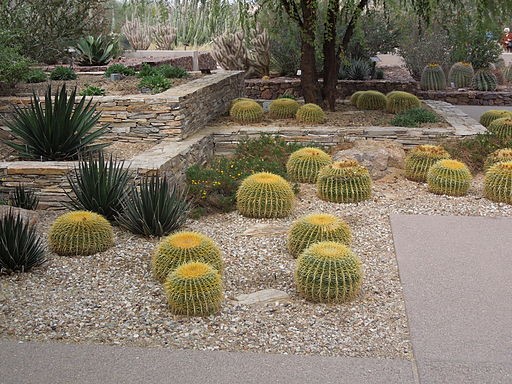 Use natural elements to make a statement. The desert is full of rock, incorporating pieces of stone within your garden is an easy way to establish garden vignettes with a variety of cacti and succulents. With stone you can not only set up an environment ideal for desert plants to take hold in a new spot, they add an artistic element as well. This can be done in container gardening or on a larger scale for more open areas.
Incorporate stone into garden walls, as well. Stacked Arizona flagstone adds a textural element to your landscaping, with the walls delineating different areas. A wall can also add more shade to your garden at various times of the day depending on the placement, height and design. This changing natural light effect will create a sense of drama and draw in the eye.
Create a layered painting effect with the plants you choose for your desert garden. Plant lower, ground cover succulents towards walkways, and along the curb, with desert bushes, and shorter cacti behind them. For another layer add in trees or larger cacti near walls or fences for a sweeping, landscape effect. This will welcome guests and draw them into the space.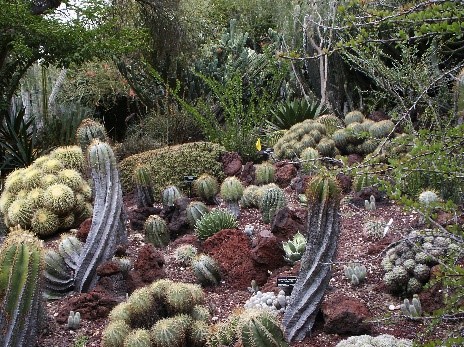 Within your layered plantings, add in some eye-catching plants, something unique to catch the eye and draw in you, wanting to explore and spend time within the garden. There's a huge variety of desert plants to fit this bill, many of which could be just the inspiration you're looking for within your landscaping.
Find more inspiring ideas for your desert garden with this Gardenista review. As your Fountain Hills Lifestyle experts, Susan Pellegrini and Karen DeGeorge are ready to put their care and expertise to work in helping you sell or buy your home. Our first-class service comes with a wealth of experience and eye for detail, ready to focus on you. Visit our website to learn more and contact us or give us a call at (480)- 315-1575, we're here for you.
Image credit:
Desert Botanical Garden by Simeon87 via Wikimedia Commons (CC By-SA 3.0)
Hungtington Library Desert Garden by Pamla J Eisenberg via Wikimedia Commons (CC By-SA 2.0)
TAGS: Pellegrini & DeGeorge Partners, Russ Lyon, Sotheby's International Real Estate, Fountain Hills Homes,