February Community Connections in Fountain Hills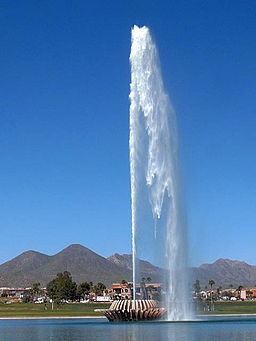 While other areas of the United States are dealing with bitter, cold winds, snow and ice, here in Fountain Hills it's a desert paradise. This is the season for living outdoors and experiencing community connections through fun and exciting events. Coming up in February, Fountain Hills will be a buzz of special gatherings and opportunities you won't want to miss.
Starting just before we head into February, January 25th marks the start of the 2019 Fountain Hills Munch & Music Concert Series. Enjoy 4 Friday lunch hours (Noon-1 pm) of free music at the Fountain Hills Community Center. First up is Flamenco Un Carazan, followed by Dave Karl February 1st, Fountain Hills Saxophone Quartet on the 8th, and Th Moonlighters on February 15th. With a new sound system having been installed at the FH Community Center these concerts will be even better than before.
There's a different kind of golf coming to town on February 2nd with the Battle at Fountain Hills Disc Golf Tournament. Tossing a frisbee is not just for the kids anymore, it's evolved into an incredible sport including it's own pro league. Part of the Chasin' the Chains Tour, the Battle at the Fountain has different divisions available and there's still time to register, all levels are encouraged to join in the fun.
Fountain Hills is a town with a thriving, cultural lifestyle with its support of the arts, including theater. Coming up February 16th is your opportunity to show your support for the stage at the Annual Fountain Hills Theater Gala Fundraiser. This year's them is Broadway in the Hills: A Night of Bollywood. Yes, that's right! Be enraptured by the sultry moves of a Bollywood dance troupe, get on the dance floor yourself and experience a range of Asian inspired culinary tastes. Take part in the silent auction and support our local theater; it's the perfect excuse for a great night out.
It's time once again for The Great Fair of Arts & Crafts in Fountain Hills. For over 30 years this juried artisan market has attracted incredible artists from around the world right on down to our own local artisans. February 22nd through the 24th, come to the Avenue of the Fountains Blvd and stroll your way around almost 500 artist's booths. Whether you're looking for a new piece to add to you collection, a gift, of just that special something that catches your eye, chances are you will find it at The Great Fair. Add in great food, a beer garden and live entertainment, what more could you want?
Come and thrive in Fountain Hills and enjoy all that the community has to offer. As your Fountain Hills Lifestyle experts, Susan Pellegrini and Karen DeGeorge are ready to put their care and expertise to work for you. Buying or selling, our first-class service comes with a wealth of experience and eye for detail, ready to focus on you. Visit our website to learn more and contact us or give us a call at (480)- 315-1575, we're here for you.
TAGS: Pellegrini & DeGeorge Partners, Russ Lyon, Sotheby's International Real Estate, Fountain Hills Homes, February Events Fountain Hills, Fountain Hills Chamber, Fountain Hills Cultural Events
Photo 1 attribution: By Derek Cashman via Wikimedia Commons (CC-BY-SA-3.0)