Resolve to Organize Your Fountain Hills Home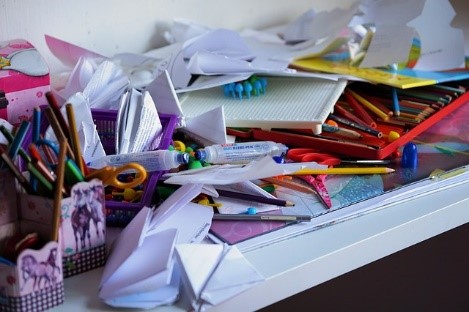 As we head into 2019, many of us will set New Years resolutions, often with the goal of improving our lives one way or another. Why not make this the year to get organized at home? When your house runs smoothly, life is a breeze to take on. Check out the following tips and ideas to help get you started.
You don't need to get organized all in one day, but you should make a commitment to it. Get your 2019 calendar in order and set a date to focus one each room in need of attention. If you can dedicate one day a week or month, whatever works with your schedule, you can get the job done in short order. By setting a date on the calendar, you'll be more likely to stick to your plan.
Plan the order of cleaning your rooms to help keep organized in the process. You can start with the messiest room or the fullest one and work your way through each room finishing with the least cluttered ones at the end. By getting the hardest room done first, keeping motivated will be easier. If the rooms to be organized each need a major redo, perhaps starting from the bottom floor up is the way to go, working your way room by room.
Before you can re-organize your space, make the whole process run more smoothly by reducing your belongings. Reduce your things by recycling, donating or selling what you no longer use or need. If you aren't sure whether to part with something or not, a good general rule of thumb to follow for whether to keep something is to note when you last used it. If it's been a year or more, it's time for it to go.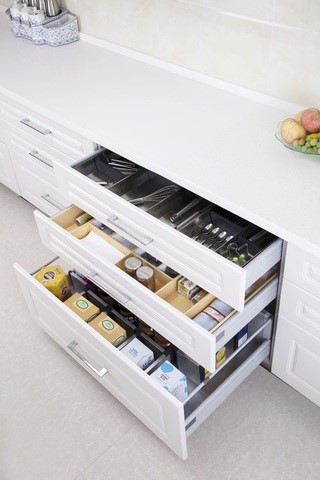 Consider updating your cupboards and drawers. Having pull-out shelves installed and sorters placed in drawers will make keeping these storage spaces organized with ease. Get more use out of your closets with an organizer system. The options are almost limitless and can be custom made to fit the space available. Additional shelves, hanging space and drawers can be added, as can extra space savers such as tie racks and shoe holders for the bedroom, or hooks for mops and brooms in the laundry room.
Some final quick tips:
Make use of bins or baskets for storage of seldom used items such as holiday decorations, seasonal clothing or arts and crafts supplies.
Set up a home communication center where you can keep important paperwork such as bills, warranties and insurance policies. Add in a message center to keep shopping lists a family calendar and leave notes or reminders.
Create a main hub for charging your digital and smart devices. Set up hooks on the wall nearby, or a small basket on the same table to keep keys as well, get out of the house readily and quickly knowing where these things are.
Find more ideas at HouseBeautiful.com. and resolve to get your Fountain Hills home organized in 2019. As your Fountain Hills Lifestyle experts, Susan Pellegrini and Karen DeGeorge are ready to put their care and expertise to work in helping you sell or buy your home. Our first-class service comes with a wealth of experience and eye for detail, ready to focus on you. Visit our website to learn more and contact us or give us a call at (480)- 315-1575, we're here for you.
TAGS: Pellegrini & DeGeorge Partners, Russ Lyon, Sotheby's International Real Estate, Fountain Hills Properties, Home Organization Ideas